If you're looking for an out-of-the-ordinary show for your special event ... a show that is fun, entertaining and captivating ... a show where the audience members are active participants rather than passive observers ... you've come to the right place!!!
What Is a Science Magic Show?
Dr. Lon's Amazing Science Magic Show consists of ooh-inspiring demonstrations that may seem "magical" but are rooted in basic laws of science. Unlike an ordinary magic show that relies on illusions and gimmicks, this show does the opposite ... it lets the audience in on the "trick" -- in other words the fascinating secrets of science behind the phenomena.
Consequently, the show is not only entertaining and engaging, the audience will also leave with a deeper appreciation and understanding of the mysterious and wonderful world we live in ... regardless of their age.
A Show for All ... and for All Occasions
The show can be customized for the occasion as well as the age group. Here are some possibilities:
A memorable, out-of-the-ordinary birthday party for bright and inquisitive kids

A fun and engaging library program for kids 6-8 year old

A school assembly for 9-12 year old pre-teens to foster interest in science

A show for teens as part of a science class or to spur interest in a science fair

A lively, playful show for "adult kids" at a party, retreat, trade show, or club event ... a hands-on show where they will not only have fun with the demonstrations, they will also laugh at each other
Active Engagement Makes ALL the Difference
In a conventional magic show the audience members are onlookers who, at most, may be asked to pick a card or think of a number. But in Dr. Lon's Amazing Science Magic Show the audience members are active participants. In fact, much of the fun comes from the participants laughing at each other as they engage in the demonstrations and play along with Dr. Lon's impromptu banter.
Make Science Come Alive!
We are living in an exciting time when science is leading the way to breakthroughs in medical treatments, safer foods, cleaner energy sources, and space exploration, to name a few. It's little wonder why TV shows such as Mythbusters and science documentaries are a hit with kids and adults alike.
Dr. Lon's Amazing Science Magic Show is in tune with the times. It not only makes science come alive, it makes it fun and exciting for kids from 6 to 96. As an added benefit the show can stimulate young people's interest in science -- which can directly impact their school performance, critical thinking skills ... and for some, their career in life.
Dr. Lon Will Be Your Guide from Awe to ... Aha!
Dr. Lon has a passion and the know-how for making science come alive -- for making it exciting for kids and adults alike. He also uses playful banter and audience participation to add life and laughter to the show.
Dr. Lon is able to draw on his experience as an educator to explain the demonstrations in simple language ... his experience as a public speaker to engage the audience ... his experience in the workplace to link the demonstrations to the real-world ... his natural ability as a storyteller and humorist to keep the show fun and entertaining from start to finish. That's why Dr. Lon is aptly called the science fun guy!
Time Commitment
The show can be customized to fit within the available time. Typical duration will fall in the 45 to 60 minute range.
Storytelling Option
Dr. Lon is the author of the children's book, Where Do Magical Banjos Come From? As an optional addition to the show, Dr. Lon will read his book aloud and then invite the participants to answer questions about the source of the "magic" that makes the banjo in the story magical. (Hint: The answer has much to do with passion, imagination, ingenuity, dedication, and persistence.) This option will require an additional half-hour.
Setup Requirements
Dr. Lon will need 30-minutes of uninterrupted setup time prior to the show. He will also need the following:
Convenient access to an electrical outlet

A suitable staging area for the show (at least 8 ft wide x 6 ft deep), preferably on a tile, marble, hardwood, or concrete floor; also no physical obstructions from furniture, curtains, cords, etc.

Authorization from the facility owner or manager to conduct the demonstrations in the designated area

For Indoor Shows: Will need appropriate lighting (preferably dimmable and with the ability to darken the room)

For Outdoor Shows: Will need shelter from the elements; also a backup plan in case of inclement weather
Contact Information:
Phone: 972-985-1731 | E-mail: DrLon@pneumacenter.com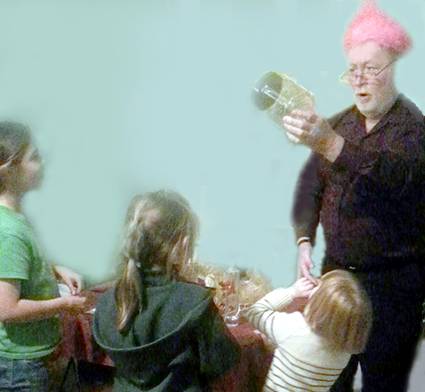 Dr. Lon Engaging with Kids at a Private Party
Science Fun Guy™
Copyright 2016 | Lon Roberts, Ph.D.