Lon
Roberts, Ph.D.


Sharon
Roberts, B.A.
Call for Information
972-985-1731

Plan Your Wedding with WeddingYellowPages.net
© Copyright 2000
Updated
01/07/2020
Memorial Services, Eulogies, & Tributes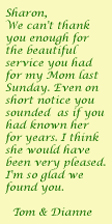 The Pneuma Center can help on those special occasions when words and symbolism are important but platitudes won't suffice . . . when you need a heartfelt message or ceremony with impact and meaning.

The following services are in keeping with our mission of supporting individuals, families, and organizations who wish to elevate the significance of certain occasions while avoiding traditional religious overtones . . . vibrant and joyous celebrations of significant turning points in life.
• Delivering eulogies or tributes
• Officiating memorial services and life celebration ceremonies
• Officiating ceremonies for newborns <click here for more info>
• Officiating ribbon-cutting ceremonies
• Officiating confirmation ceremonies
• Officiating House Blessing ceremonies
• Administering pledges, vows, and commitments
• Delivering inspirational and motivational speeches
For information on officiating services for celebrations, anniversaries and quinceañera ceremonies, click <here>.

---
If you are in need of an officiant for a funeral or memorial service to celebrate the life of a loved one while bringing comfort to the bereaved, please call us to discuss how we may be of service. We will be happy to conduct a funeral or memorial service that is in keeping with the beliefs and values of the deceased.
---
"Ceremonies with class for virtuoso tastes" is a trademark of Pneuma Center.
Copyright 2000
Pneuma Center
Concord, NH
Phone: 603-230-2422
Email: info@pneumacenter.com