Celebration of Life Ceremonies
Rather than a traditional funeral or memorial service, many people find that a life celebration ceremony is more in line with the wishes, beliefs, and values of a loved one that has passed away. It's what he or she would have wanted — rather than a somber affair with religious overtones.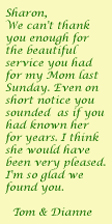 By contrast, a life celebration ceremony is a joyous occasion that centers on the life that the loved one lived and the indelible mark that he or she left on those who knew him or her best. It is also an opportunity for those who knew her or him from differing perspectives to join their stories in painting a multi-textured portrait of the loved one that will forever remain in the memories of those who are present — adults and children alike. The ceremony itself may be held in any location ... indoors or outdoors, in a park, private home, chapel, or other facility.
While there are no rules on what the ceremony may include, will believe there should be no unpleasant "surprises." Here is a sequence of possible events:
●
Officiant opens with a welcome to the family and friends.
● Officiant describes the ceremony and how it aligns with the wishes of the family and/or the loved one. (i.e., "...had a very specific requirement, ... asked that we be joyful and let this be a time of celebration, rather than mourning.")
● (if applicable) Officiant describes how she or he knew the loved one or was chosen to officiate the ceremony.
● Friends and family members are asked to come forward and share a humorous or uplifting story ... or perhaps some little known fact about the loved one. (Woven together these anecdotes may paint the picture of a life that few if any were ever aware of in total.)
● A reading and/or favorite poem may be included at any point in the ceremony. It may be read by the officiant or a friend or family member.
● A slide show representing a panorama of the loved one's life is shown. The slide show may also be accompanied by music ... perhaps one or more of the loved one's favorites.
Officiant ends with a closing comment and (if applicable) an invitation for the guests to attend a reception.

A Celebration of Life Ceremony is an uplifting, warm and joyous occasion. It is an opportunity to honor the loved one and their families by sharing remembrances and being together to comfort and support one another. The loved one is with us in spirit and will live on in every remembrance each of us have every single day.

The Pneuma Center will be honored to engage with you to deliver a warm and uplifting Life Celebration Ceremony in the following ways:
● Conferring with friends and family members in preparation for the ceremony (eliciting anecdotes, inviting participation, etc.)
● Orchestrating and officiating the ceremony
● Preparing a slide show for the ceremony, for those who want this optional service
For information on Life Celebration Ceremonies, call us at 603-230-2422 or send an e-mail message by clicking <here>.

If you are interested in capturing and documenting the life-stories of an elderly relative or recently deceased loved one, visit our Family Histories and Memoirs webpage <click here>

Comments and Testimonials
---

Pneuma Center
Concord, NH


Phone: 603-230-2422 | Email: info@pneumacenter.com

"Ceremonies with class for virtuoso tastes" is a trademark of Pneuma Center.
Copyright 2000