Relationship Coaching
Relationship Coaching is available to individuals and/or couples who want private, practical advice on dealing with specific challenges in their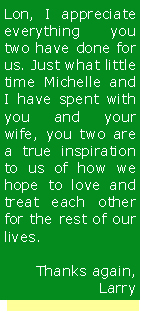 personal relationships . . . at any point in the relationship, whether they are married or not. Unlike Soul-Mate Counseling that deals with issues relevant to couples who are beginning a life-journey together, Relationship Coaching targets specific issues and concerns in an established relationship.
Coaching sessions may be conducted face-to-face in a private setting or via the telephone at a mutually convenient time, including days, evenings, and weekends.
Relationship Coaching is a clerical service provided through the Pneuma Center, but it is not the same as marriage counseling. It is geared for individuals and couples who are interested in strengthening their relationship and enhancing the spiritual bond called LOVE, regardless of their marital status.
Relationship Coaching may appeal to individuals or couples who would describe themselves in the following ways:
• Desire private coaching from someone who knows from experience the meaning of a long-term, soul-mate relationship

• Don't wish to be lectured about religious dogmas or "obligations to The Church"

• Believe that LOVE is a matter of the heart and soul . . . the domain of the spirit that links us to one another and the universe as a whole

• Are not in an abusive relationship, but rather one in which there is mutual interest in overcoming certain difficulties and challenges that can potentially serve as impediments to a healthy relationship
How Does the Process Work?
Relationship Coaching is not a protracted process of "peeling the onion" to uncover hidden causes of relationship problems that are presumed to stem from issues in the distant past. Rather, it about rediscovering the love and passion that brought you together in the first place ... though with a clear understanding that you are at a different place in your lives now than you were then.
The process is simple but profoundly impactful. In a nutshell, Relationship Coaching uses your picture for an ideal future and then guides you in identifying a realistic scenario for achieving the ideal. It uses a proven strategy of working backward from where you want to be to where you are, rather than where you are to where you want to be. This approach is revolutionary in the sense that it frees you from the constraints of the past, allowing you to focus instead on the relationship you want now.
Another important distinguishing factor in the Relationship Coaching process is the "recommitment pledge" near the end of the process. In substance, this is akin to a vow renewal ceremony, but with pledges that speak to the new purpose and the forward-looking direction in your relationship. The "recommitment pledge" may be conducted in private or it may be conducted before friends and loved ones as a public testament of your renewed commitment to one another.
Contact us if you are interested in face-to-face or telephone Relationship Coaching.

---

Couples who do not share a common religious heritage may face special challenges in their relationship. If this describes the two of you, we encourage you to read our blog on this important subject. Click here to read.
---
Pneuma Center
Concord, NH
Phone: 603-230-2422
Email: info@pneumacenter.com