Lon
Roberts, Ph.D.


Sharon
Roberts, B.A.
Authors of the book ...
Weddings Without Rules
Call for Information
603-230-2422
Visit our Blog




Plan Your Wedding with WeddingYellowPages.net
© Copyright 2000
Updated
02/21/2020
Vow Renewal & New Beginning Ceremonies
We offer officiating services for Vow Renewal Ceremonies and New Beginning Ceremonies.
What's the difference between the two? There are similarities, but the wording of the vows can be significantly different. For instance, a couple that wishes to celebrate a significant milestone in their relationship—such as a 10th or 25th wedding anniversary—may opt for a Vow Renewal Ceremony. On the other hand, a couple that wishes to mark a new beginning in their relationship—perhaps after overcoming a difficult challenge in their marriage—may opt for a New Beginning Ceremony.
In either case, a Vow Renewal Ceremony or a New Beginning Ceremony can serve as a launching point for those who wish to build their relationship from where they are now in their lives ... embracing the future with a renewed sense of devotion to one another while accepting the reality that individually, and as a couple, their outlooks and aspirations are not what they were when their relationship began.
The Pneuma Center offers Vow Renewal and New Beginning Ceremonies for couples that wish to pledge their commitment to one another starting from where they are, and who they are, now in their lives and their relationship. This may apply to couples who:
• Wish to make a public statement that they are still very much in love and devoted to one another, perhaps as part of an anniversary or other milestone celebration

• Have shared a relationship that has experienced challenges and difficulties, but they wish to look forward and mark the occasion of their renewed commitment to one another with a public or private ceremony

• Eloped or had a "courthouse wedding" that may have satisfied the legal requirements of marriage but lacked the richer meaning on which to build a soul-mate relationship and also did not include friends and family members in the celebration and as "partners" in the relationship

• Had an elaborate wedding ceremony where concessions were made to please a parent or to fulfill obligations to "the Church" but they would like to start afresh with a ceremony that is true to their values and wishes
We would love to work with you to create a Vow Renewal or New Beginning Ceremony that fulfills your hopes and dreams...whether a simple private ceremony or an elaborate public ceremony.

---
Ceremony Sequence | Keeping Romance Alive | Relationship Coaching | Request Info
Checklist for Choosing an Officiant
Considerations in Selecting a Wedding Facility
D/FW Wedding Resource Guide
---
Sharon, I just wanted to thank you sooo much for the beautiful (vow renewal) service! We could not be more pleased with everything you did! I am so happy you were able to help me with the wording. You did a great job -- it was just perfect!

- Melissa & Sean

Thank you so much for everything, including braving the heat. You helped make our wedding ceremony everything we ever wanted. It was perfect and you made the process so easy!

- Kristin & Stephen

Thank you so much for helping make our special day everything we wanted it to be. It was such a gift to get to work with you on creating a ceremony that had meaning for us. We will definitely recommend you to others.

- Kelly & Bart

I just wanted to take a moment and thank you for such a nice ceremony! It was just as we wanted it!! Thank you again for helping make our day so special!

- Kay & John

Thank you so much for a beautiful ceremony & for being part of such an important event in our lives!

- Mariana & Sergio

We want you to know how appreciative we are and will always be that we were led to find you because you made our wedding vow exchange so perfect for us! Many, many thanks!

- Karen & John

Thank you so much for helping make our ceremony such a beautiful event. Everything was just as we hoped it would be and our day was unforgettable thanks to you.

- Catherine & John

Thank you so much for helping us with our ceremony at the last moment. You saved the day and made our wedding very special. I received many compliments about the ceremony. I would recommend your services to anyone in a heartbeat.

- Amy & Erick

Thank you so much for performing such a beautiful ceremony for our wedding! We had many compliments about the wording and the sentiment, and even though Dan and I tweaked a few things, I know that the words that you put together were the foundation of our wonderful day.

- Christine & Dan

What a glorious day we had! Patrick and I want to thank you for setting the perfect tone for our ceremony: solemnity without too much seriousness, recognition of our families and friends, and reminding us that our feelings for each other and our "big step forward" were what it was all about.

- Lisa & Patrick

We wanted to thank you for your wonderful support and the beautiful job you did on our wedding. Lon was a calming face at the end of the aisle as I walked up, and it made us feel really comfortable getting to know you both before the actual day. We have been smiling and crying happy tears ever since. Everyone loved the ceremony and that is due in part to you both. Thanks again.

- Lisa & Josh

I wanted to thank you again for officiating our wedding. I'm so glad I found you! It was extra special for Corey and me to be able to write our own vows and ceremony (with your excellent help, of course). You are both so nice, which is very refreshing.

- Gretchen & Corey

In the years to come, we will often look back on this special day and the part you played in making it truly an occasion to remember. Thank you for a lovely ceremony and a job well done.

- LeAndra & Erik

We just wanted to say thank you. The ceremony was beautiful and everyone we spoke to had only good things to say about it. We appreciate what you do and what you have done for us, and again . . . we just wanted to say thanks. If anyone else is looking for the same type of ceremony as we were looking for we will definitely recommend you every time!

- Stephanie & Austin

Shane and I want to thank you for the wonderfully personal yet professional "job" you did officiating our wedding. We were convinced from our first meeting with you that you were the right people to perform a ceremony so uniquely personal to us -- and we were right! Thank you very much.

- Maureen & Shane

Sharon, thank you so much! You did a beautiful job and I've received so many compliments on your behalf from our guests. I would be proud to recommend you and the Pneuma Center to my friends and family in the future.

- Cheryl & David

Jorge and I would like to say Thank You! We appreciate your professionalism and really enjoyed working with you. Thanks for being there to bring our special day together!

- Hayley & Jorge
---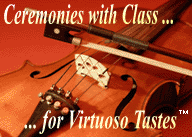 "Ceremonies with class for virtuoso tastes" is a trademark of Pneuma Center.
Copyright 2000
Pneuma Center
Concord, NH
Phone: 603-230-2422
Email: info@pneumacenter.com